CSR
Social Responsibility at Infinium Pharmachem means managing our business responsibly, ethically and ensuring we run our business with a commitment to help the communities in which we operate. We believe that being socially responsible benefits our employees, customers, the community at large, and is essential to the long term sustainability of our business. Infinium has a long history of supporting the communities in which it operates through charitable contributions.
We believe in a social responsibility policy that engages the time and talent of our employees. Every individual intrinsically has the need to reach out, and be able to make a difference. At Infinium, we wish to support that, and provide employees with opportunities to make an impact.
Our initiatives are primarily directed in the areas of Children's Needs and Development, Education, Environment and Local Needs. Our goal is to make a meaningful difference to all individuals whose lives we touch through the projects that we take up. We do this by supporting social projects in partnership with not-for-profit organizations, as well as projects were taken up independently as company initiatives.
During the Year 2023, We we ran the following initiative at Shri Virendragandh Primary School, Gujarat, India:
Education stands as a foundation for empowerment and we actively support education initiatives throughout the year 2023. We have provided an educational board, a multi-function printer and scanner, and a laminator to schools to improve access to quality education for deserving students. Infinium Pharmachem helps students at Shri Virendragadh School choose their future by providing financial support. Our goal is to create an environment where every individual has the opportunity to learn and develop.
By equipping Shri Virendragadh Primary School with these technological tools, we aim to:
Enhance Learning Experiences: The interactive education panel encourages creative and collaborative learning, making lessons more engaging and effective.
Promote Access to Information: The multifunction printer and scanner facilitate the creation and sharing of educational materials, enriching the learning process.
Streamline Administrative Tasks: The technology provided simplifies administrative tasks, allowing educators to dedicate more time to teaching and students' well-being.
Foster Innovation: By integrating technology into the learning environment, we hope to inspire innovative teaching methods that prepare students for a rapidly evolving world.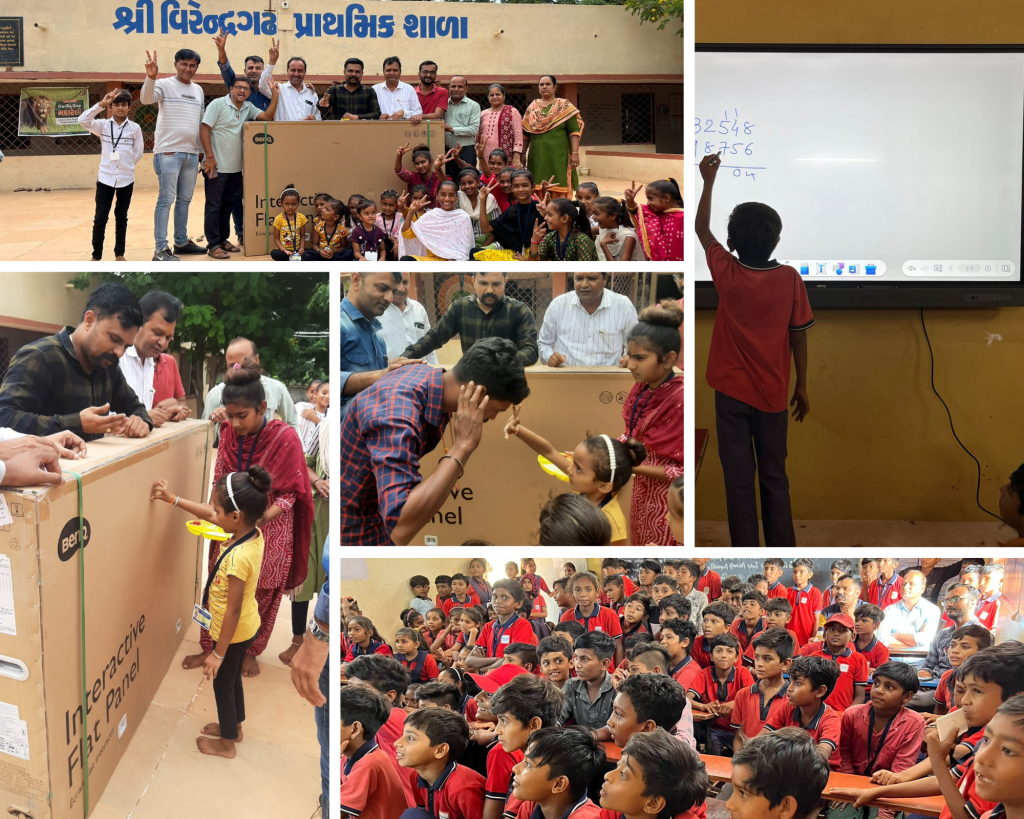 During the fiscal year 2015-16, we ran the following initiative at Sojitra, India:
Provided water cooler with a filtration system in Sojitra Government School.
In the future we plan to allocate special fund to carry out the following activities:
Providing Drinking water filtration plants in Anganvadi and Primary Schools in Sojitra Taluka
Development of sanitation facilities especially for girl students
Antiseptic hand-wash drive for children in Anganvadi and Primary
School of Sojitra Taluka and vicinity.
Tree plantation in association with Gram Panchayat of nearby villages at suitable locations and Gauchar land development.
Any other activity that may be identified by responsible villagers in the vicinity.